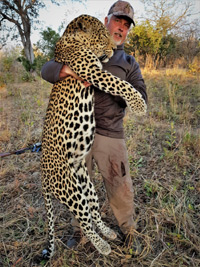 This hunt may have ruined me!
I sign up for a Buffalo, Hippo, and Croc hunt, with no Leopard.
In camp, I'm offered a deal on Leopard, too good to pass up, so now I'm Leopard hunting too!
Take my first Hippo, my first Croc, and my first Cape Buffalo! Awesome!
Pick up a great Hyena and Puku along the way; having an amazing hunt!
Checking Leopard baits along the way, and seeing Leopards regularly during the day!
Day 5; Two big male Leopards on our baits!!! Build a blind and sit that night on the bigger cat's bait.
Day 6, in the full morning light, I saw what is, surely, the most awesome thing I've ever seen while hunting; A Huge Tom Leopard standing right in front of our blind, and then walking in front of us on his way over to the bait tree (grumbling all the way; awesome to hear!)
Up the tree he goes; Minutes later I have a trophy of a lifetime laying in front of me!!!
After pics, and checking him over for quite a while back at camp, I could barely stand letting them take him to the skinning shed!
What am I going to do now, that could possibly equal or rival that hunt?
I'm sure I'll try, but I can say, I now fully understand the "Leopard Obsession" (Thanks Buzz!)
Thanks for a life changing hunting experience!