Please note these fees are for Botswana 2021
Elephant Bull | 10 days | $58 000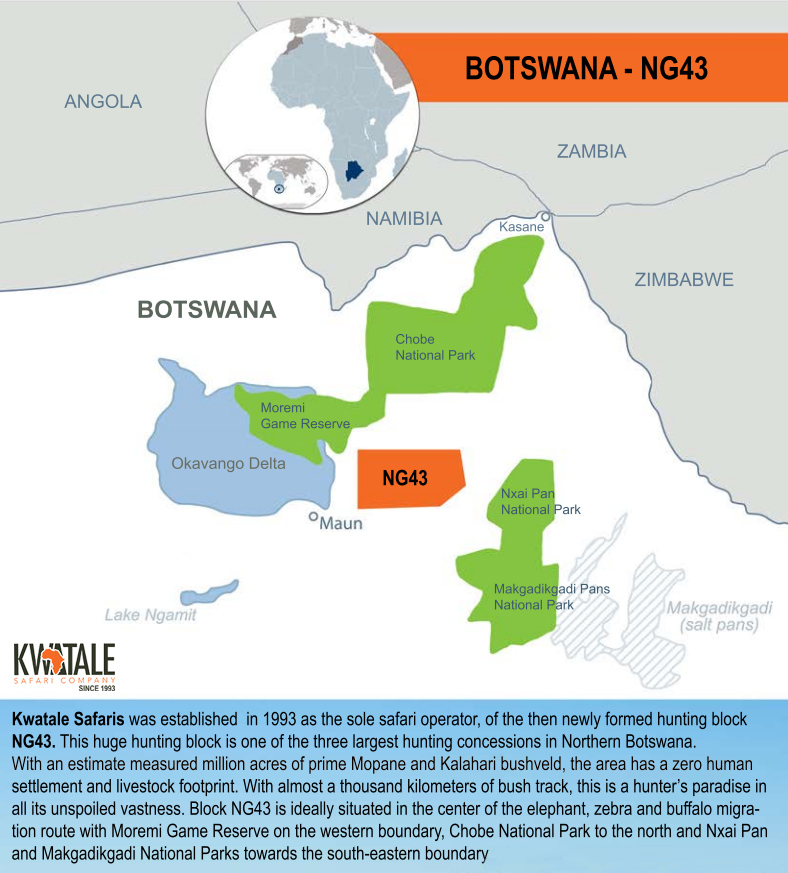 Charlton McCallum Safaris is excited to partner with well known and respected Kwatale Safaris in Botswana. CMS's PH Len Taylor who is one of Africa's leading elephant hunters will guide our clients. Should Len be unavailable, then Frans van der Merwe, who knows this area backwards and has a phenomenal amount of elephant experience will be able to guide you.
Experience traditional big game hunting. You and your PH will follow our trackers into the untouched wilderness of Botswana. Hunting for plains game on a large private estate can be arranged upon request. This can be added to one of our big game hunts or booked as a stand alone hunt. Our hunts are offered on an all inclusive basis once you have arrived at the destination airport (typically Maun or Kasane).
ELEPHANT - 10 Day Hunt - USD 58 000 including trophy fee


Hunts Include:

Meet and greet by a member of our staff at your arrival airport (typically Maun)

Transport to camp by road. Depending on the area hunted, this is typically a 2 to 3 hour drive.

Accommodations, food, alcohol and beverages for the duration of the hunt.

Service of qualified PH, hunting staff and hunting vehicle.

Hunting and Firearm Permits.

Field Preparation of Trophies.

Daily Laundry and Cleaning Services.

All Taxes, VAT, Daily Rates, Concession Fee, Trophy Fee and License Fee.

Hunts Exclude:

Any Extra Days Booked beyond the duration of the hunt package.

Weapon hire (US$30 per day) and ammunition (US$15 per round)

Side excursions can be arranged but will be at an extra charge to be established based on the particulars of the excursion.

Taxidermy Charges (Dipping, Packing, Mounting and Shipping of Trophies)

Gratuities
Travel to and from Botswana.

Travel and medical insurance. (We recommend specific emergency medical and evacuation insurance, i.e. Global Rescue)

Air Charters. Some of the camps may be accessible by air charter. In these cases, we are happy to arrange the air charter at the client's expense.

Accommodation Before and After the Safari. Flights into Botswana typically arrive and depart mid-day. As a result, a typical hunt will not require overnight stay in town at either end of the hunt. Should the client desire to spend a night in town, this can be arranged at the client's expense.

PH - Len Taylor

A seasoned professional hunter with over 27 year's experience, specialized in the hunting of elephant. Professional hunting is my core profession. Coming from a farming back ground I pursued a dream of becoming a Zimbabwe professional hunter at the young age of 16 years old. I obtained my life dream at the age of 20 as a licensed professional hunter. And then going on to work in a campfire operation (Communal area management program for indigenous resources.) Where I was put so-lie in charge of all problem animals over a very large part of the country. Here I gained a large amount of dangers game experience.

Over the years I have hunted extensively nearly every hunting area Zimbabwe has to offer. Most of my elephant hunting experience, I have gained in the west of the country along the Botswana border. Hunting magnificent hunting areas such as Tsholotsho south and North. Plumtree communal area, Matetsie safari, Zambezi Valley with CMS and many more. Elephant Hunting is a passion that has captured my heart over the many years of hunting professionally.And there is no better place than Botswana when it comes to filling your dream for the grey giants of Africa.

Awarded 'Biggest Lion and Biggest Elephant 2019' and 'Outstanding Big Game Hunter of the Year 2019' by the Zimbabwe Professional Hunters and Guides Association (ZPHGA), Len Has now obtained his Botswana PH license and is now living in Botswana to pursue his passion of elephant hunting.

PH - Frans van der Merwe

Frans is a highly experienced big game hunter with a lifetime of experience accumulated in the Africn bush. Frans spent 13 years with Kgori Safaris Botswana and was head Professional Hunter at Kgori, prior the closure of hunting in 2013. In this role, Frans built an impressive resume as an elephant hunter. Frans is leading the efforts to reopen the NG43 Concession under Kwatale Safari Company, and will be assembling and leading a team of excellent professionals to guide our clients in the field.

Camps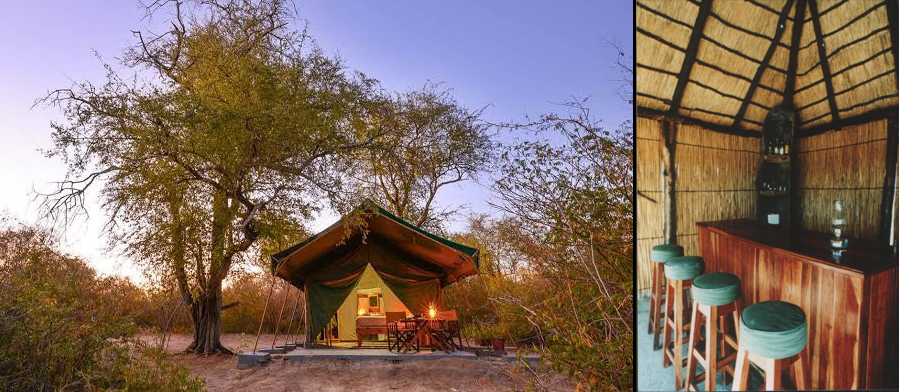 Kwatale's camps are top tier tented safari camps. Kwatale's staff and camps have entertained royalty with great success. We are certain that they will meet your every expectation. The tents are large, floored wall tents with en-suite baths/showers supplied with hot and cold running water, and flush toilets. Electric lighting and power points with 220V including a satellite Wi-Fi link are provided in the tents.

The dining tents are well laid out with propane fueled fridges to ensure cold drinks are available at all times. All furnishings are classic safari in design and function. The kitchen staff man a well equipped work space, cooking over mopane wood fires to produce an outstanding menu.

Dining

The fire is a central point of any bush camp. The day begins and ends at the fire. In the morning, a hot cup of coffee and a warm fire are a prelude to breakfast and the adventures a new day will bring. In the evening, the group typically retires to the fire after dinner with refreshments of choice. The day is relived and plans made for the morrow. Breakfast is typically good coffee, eggs, toast and breakfast meat. Lunch is typically in the bush. The chef will pack a delicious lunch. The cold box will have sufficient cold drinks for the day. Dinner is the chef's opportunity to shine. Cooking is done in a well equipped bush kitchen over mopane wood fires. We are certain that you will find the food of a quality to rival that of a fine restaurant back home. It is truly amazing what our chef's are able to create over a mopane fire in the bush. Evening meals are complemented with select South African wines, various African beers, and a selection of hard liquor and soft drinks.